DJK Taxation & Financial Services

Enrolled To Practice Before The IRS

Retrieve Your 2017 Individual Tax Organizer Here
To Request a UserID and Password: Email Me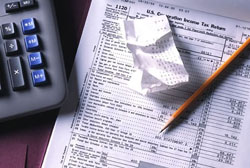 MY 1040 Data Organizer Simplifies The Tax Document Process!
ETFs have some attractive features that set them apart from mutual funds, but there are also cost and risk factors to consider.

Why investors still hold money market mutual funds despite low returns.

Looks at some of the reasons behind the big declines in emerging markets, and how these developing economies might affect U.S. investors.

The potential impact on Social Security benefits by the Windfall Elimination Provision and the Government Pension Offset.
Use this calculator to estimate the cost of your child's education, based on the variables you input.

Compare the potential future value of tax-deferred investments to that of taxable investments.

Use this calculator to estimate how much income and savings you may need in retirement.

Estimate the annual required distribution from your traditional IRA or former employer's retirement plan after you turn age 70½.