DJK Taxation & Financial Services

Enrolled To Practice Before The IRS

Retrieve Your 2018 Individual Tax Organizer Here
To Request a UserID and Password: Email Me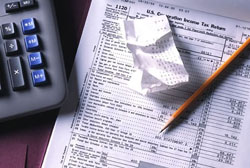 MY 1040 Data Organizer Simplifies The Tax Document Process!
Some tips for parents and college students to consider, whether opening a new checking account or using an old one.

Wondering if you can still write off 50% of the cost of business meals? Find out what is and isn't deductible.

Businesses and governments are exploring blockchain applications as they seek to improve transparency, increase productivity, and reduce costs.

Small-business owners will want to take full advantage of every legal tax break available, such as deductions for a home office and automobile expenses.
Use this calculator to estimate the cost of your child's education, based on the variables you input.

Compare the potential future value of tax-deferred investments to that of taxable investments.

Use this calculator to estimate how much income and savings you may need in retirement.

Estimate the annual required distribution from your traditional IRA or former employer's retirement plan after you turn age 70½.