DJK Taxation & Financial Services

Enrolled To Practice Before The IRS

Retrieve Your 2018 Individual Tax Organizer Here
To Request a UserID and Password: Email Me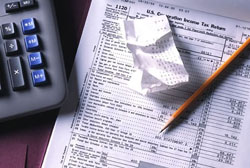 MY 1040 Data Organizer Simplifies The Tax Document Process!
Discover why it might be worth waiting for a record of financial results before investing in an initial public offering.

Rolling funds from an employer's plan to an IRA enables you to maintain control regardless of your employment situation.

An overview of the potential benefits, limitations, and rules of Roth 401(k) accounts.

The new tax law includes several provisions that could benefit business owners, such as the pass-through deduction and write-offs for capital investments.
Use this calculator to estimate the cost of your child's education, based on the variables you input.

Compare the potential future value of tax-deferred investments to that of taxable investments.

Use this calculator to estimate how much income and savings you may need in retirement.

Estimate the annual required distribution from your traditional IRA or former employer's retirement plan after you turn age 70½.