DJK Taxation & Financial Services

Enrolled To Practice Before The IRS

Retrieve Your 2018 Individual Tax Organizer Here
To Request a UserID and Password: Email Me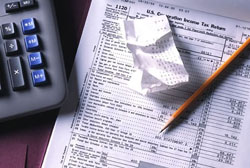 MY 1040 Data Organizer Simplifies The Tax Document Process!
Universal life and variable universal life insurance have risks and potential benefits, including a death benefit with a tax-advantaged savings element.

Many U.S. states offer a way to avoid probate when leaving the family home to your heirs. Learn more about transfer-on-death deeds.

In addition to setting aside pre-tax income to pay current and future medical expenses, an HSA could play an important role in your long-term retirement strategy.

Find out how individual impact bonds may allow investors to preserve principal and generate income while supporting activities that are important to them.
Use this calculator to estimate the cost of your child's education, based on the variables you input.

Compare the potential future value of tax-deferred investments to that of taxable investments.

Use this calculator to estimate how much income and savings you may need in retirement.

Estimate the annual required distribution from your traditional IRA or former employer's retirement plan after you turn age 70½.