DJK Taxation & Financial Services

Enrolled To Practice Before The IRS

Retrieve Your 2015 Individual Tax Organizer Here
To Request a UserID and Password: Email Me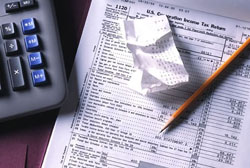 MY 1040 Data Organizer Simplifies The Tax Document Process!
Women-owned businesses employed almost 9 million people and added more than $1.6 trillion annually to the U.S. economy at last count.

Tips for a successful financial conversation even if you may have a difficult time talking about personal finances.

An outline of PATH Act provisions that may be most helpful for individual taxpayers and small businesses.

How the Bipartisan Budget Act impacts Medicare and Social Security and who is affected by these changes.
Use this calculator to estimate the cost of your child's education, based on the variables you input.

Compare the potential future value of tax-deferred investments to that of taxable investments.

Use this calculator to estimate how much income and savings you may need in retirement.

Estimate the annual required distribution from your traditional IRA or former employer's retirement plan after you turn age 70½.