DJK Taxation & Financial Services

Enrolled To Practice Before The IRS

Retrieve Your 2021 Individual Tax Organizer Here
To Request a UserID and Password: Email Me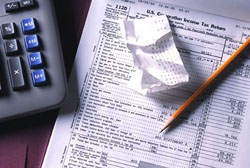 MY 1040 Data Organizer Simplifies The Tax Document Process!
In the past, trusts were often used to avoid estate taxes, but that purpose has become less important for most people with current high exemption amounts. However, a properly constructed trust can serve many other purposes for families of more modest means.

Leaving a job? Discover four options that are often available for managing funds in an employer-sponsored retirement plan.

Muni bonds and tax-exempt funds have long been a mainstay in the portfolios of income-focused investors who want to manage their tax burdens.

Three approaches to help determine an appropriate amount of life insurance coverage that can help meet changing financial needs.