DJK Taxation & Financial Services

Enrolled To Practice Before The IRS

Retrieve Your 2020 Individual Tax Organizer Here
To Request a UserID and Password: Email Me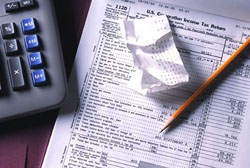 MY 1040 Data Organizer Simplifies The Tax Document Process!
IRS cost-of-living adjustments affect retirement plan contribution limits and certain tax considerations. Explore these 2021 adjustments.

The Fed now seeks to control inflation through the benchmark federal funds rate. Find out what this means for investors and consumers.

Discover how dollar-cost averaging may help alleviate some market concerns by making regular investments regardless of market movements.

This article explains the four stages of Part D prescription drug coverage and how prices can vary in the coverage gap.
Use this calculator to estimate the cost of your child's education, based on the variables you input.

Estimate the annual required distribution from your traditional IRA or former employer's retirement plan after you turn age 72.

Compare the potential future value of tax-deferred investments to that of taxable investments.

Use this calculator to estimate how much income and savings you may need in retirement.