DJK Taxation & Financial Services

Enrolled To Practice Before The IRS

Retrieve Your 2020 Individual Tax Organizer Here
To Request a UserID and Password: Email Me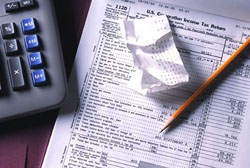 MY 1040 Data Organizer Simplifies The Tax Document Process!
The Consolidated Appropriations Act, 2021, included several provisions affecting financial aid and education. Learn more.

This article addresses specific risks and tax implications when acquiring company stock inside or outside of a workplace retirement plan.

This article offers an overview of spousal benefits, which could make a big difference in funding retirement for a married couple.

This article discusses corporate credit ratings and some differences between investment-grade and speculative-grade bonds.
Use this calculator to estimate how much income and savings you may need in retirement.

Estimate the annual required distribution from your traditional IRA or former employer's retirement plan after you turn age 72.

Use this calculator to estimate the cost of your child's education, based on the variables you input.

Compare the potential future value of tax-deferred investments to that of taxable investments.