DJK Taxation & Financial Services

Enrolled To Practice Before The IRS

Retrieve Your 2019 Individual Tax Organizer Here
To Request a UserID and Password: Email Me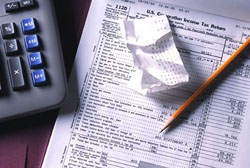 MY 1040 Data Organizer Simplifies The Tax Document Process!
An examination of how China's coronavirus-driven slowdown has affected global business activity and a look at its potential economic impact.

The difference between a money-losing business and a hobby matters at tax time. This article presents IRS criteria for making the distinction.

Millennials, Gen Xers, and baby boomers face different challenges in pursuing retirement goals. This article offers strategies to help address them.

Discover how the step-up in basis provision may help reduce capital gains taxes and preserve the value of assets left to heirs.
Use this calculator to estimate the cost of your child's education, based on the variables you input.

Compare the potential future value of tax-deferred investments to that of taxable investments.

Use this calculator to estimate how much income and savings you may need in retirement.

Estimate the annual required distribution from your traditional IRA or former employer's retirement plan after you turn age 72.