DJK Taxation & Financial Services

Enrolled To Practice Before The IRS

Retrieve Your 2021 Individual Tax Organizer Here
To Request a UserID and Password: Email Me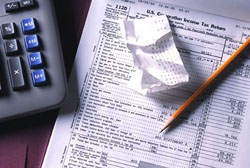 MY 1040 Data Organizer Simplifies The Tax Document Process!
The electric-vehicle market is evolving quickly. This article offers some ideas to consider before purchasing an electric vehicle.

A tax credit and/or dependent-care flexible spending account might help offset some of the costs paid for a nanny, babysitter, day care, preschool, or day camp.

Find out about cost-of-living adjustments that affect retirement plan contribution limits and other deductions and threshold amounts.

The SECURE 2.0 Act includes two new provisions related to college savings and funding. Learn more in this article.
Estimate the annual required distribution from your traditional IRA or former employer's retirement plan after you turn age 73.

Use this calculator to estimate the cost of your child's education, based on the variables you input.

Use this calculator to estimate how much income and savings you may need in retirement.

Compare the potential future value of tax-deferred investments to that of taxable investments.