DJK Taxation & Financial Services

Enrolled To Practice Before The IRS

Retrieve Your 2020 Individual Tax Organizer Here
To Request a UserID and Password: Email Me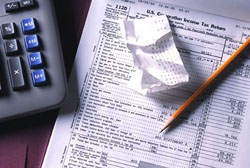 MY 1040 Data Organizer Simplifies The Tax Document Process!
This article offers a strategy that may help address sequence risk — the danger of poor investment performance at the outset of retirement.

This article outlines the basic provisions of income-driven repayment plans that can help reduce the burden of federal student loans.

This article offers an overview of spousal benefits, which could make a big difference in funding retirement for a married couple.

Wondering whether you should pay off student loan debt today or save for the future? Here are some considerations to help make the decision.
Use this calculator to estimate the cost of your child's education, based on the variables you input.

Use this calculator to estimate how much income and savings you may need in retirement.

Estimate the annual required distribution from your traditional IRA or former employer's retirement plan after you turn age 72.

Compare the potential future value of tax-deferred investments to that of taxable investments.