DJK Taxation & Financial Services

Enrolled To Practice Before The IRS

Retrieve Your 2019 Individual Tax Organizer Here
To Request a UserID and Password: Email Me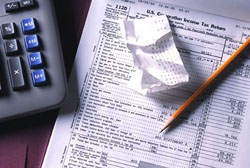 MY 1040 Data Organizer Simplifies The Tax Document Process!
This article features a worksheet to help you estimate the savings you might need to generate your desired retirement income.

The Federal Reserve's "Beige Book" provides a broad overview of the economy that is often essential for making economic policy decisions.

2020's market volatility combined with holding stock in different-sized companies might help you diversify your equity portfolio at a discount.

Do you know the differences between debit and credit cards? This article discusses both and when it might be better to use a credit card.
Use this calculator to estimate the cost of your child's education, based on the variables you input.

Compare the potential future value of tax-deferred investments to that of taxable investments.

Use this calculator to estimate how much income and savings you may need in retirement.

Estimate the annual required distribution from your traditional IRA or former employer's retirement plan after you turn age 72.